Do you want to spend the best Erasmus or Exchange in Prague?
The Prague University of Economics and Business (VSE) in Prague is arguably your best option thanks to ESN VSE Prague – formerly the "Buddy System". We are a non-profit student organization which was established in 1998 and became a member of the Erasmus Student Network (ESN) in 2002. Since its founding ESN VSE Prague has been growing and now the organization has approximately 80 members. We help international students studying at the Prague University of Economics and Business by pairing them with a Czech buddy to assist them during the first weeks in Prague and we also organize a lot of trips and events during the semester. Our trips, events, sports and cultural activities take place in the Czech Republic and neighboring countries and are primarily designed for international students and their buddies, but other students of VSE can also join sometimes.
15.09.2002 Buddy System at VSE became an independent member of an international student organization ESN (in the Erasmus Student Network section, you can find more about ESN), which has more than 500 sections of which 19 are a part of the ESN Czech Republic. The official name was hereby changed to "ESN VŠE Praha – Buddy System", and in 2019, we changed our name again to "ESN VSE Prague", which was commonly used already before. The membership of our organization in ESN has brought us an increase of credibility, improvement of offered services for Czech and international students and last but not least the possibility of international cooperation with other ESN sections. The ESN VSE Prague has now legal entity of a not-for-profit association and it is registered by the Ministry of Internal Affairs in the Czech Republic.
What does ESN VSE Prague do and what activities does it organize?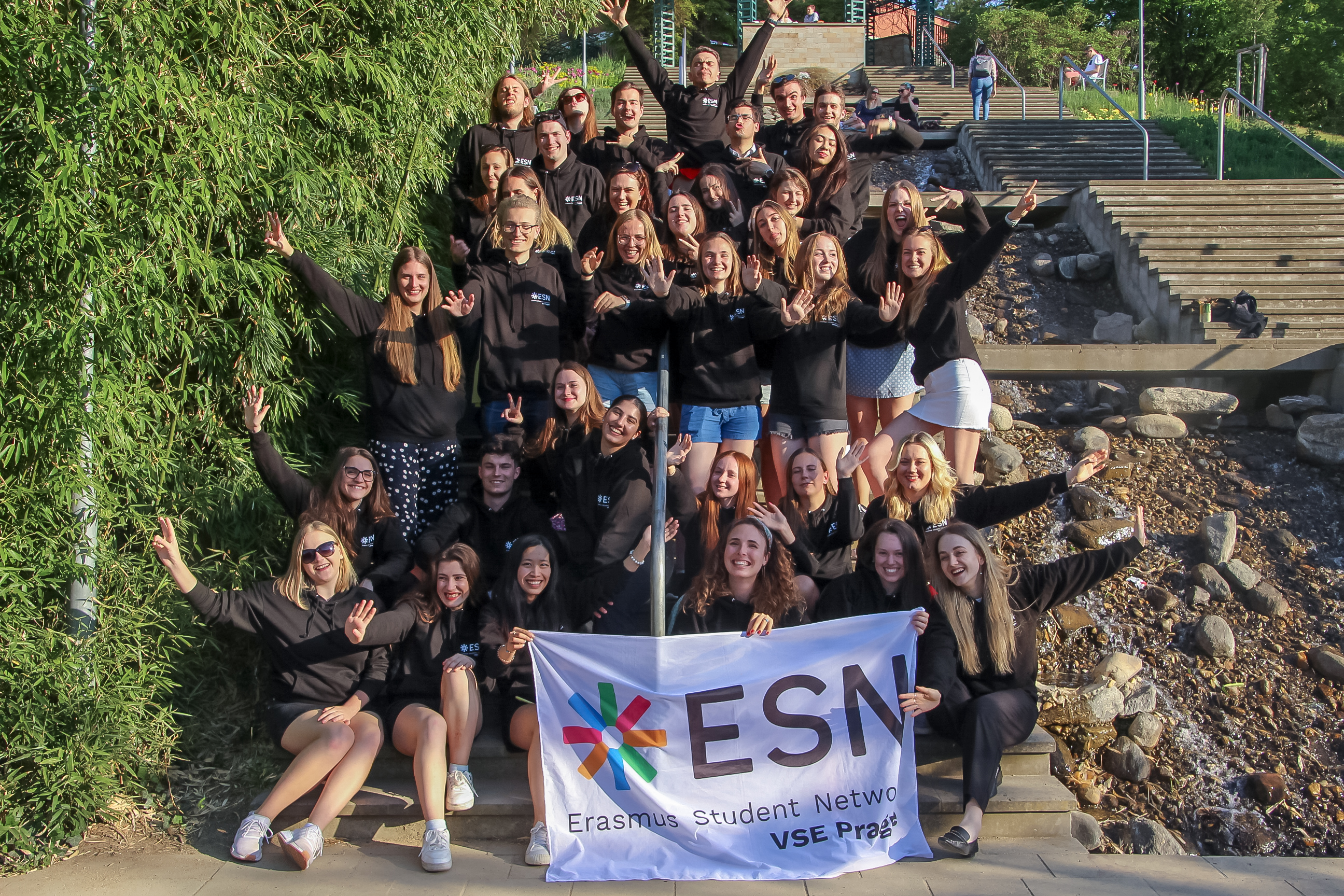 ESN VSE Prague helps international students who come for an Erasmus or Exchange program to our university by giving them a Czech "friend" – buddy – who advises and helps them with accommodation in dormitories, necessary administration, orientation in school and in Prague and many other things. In return, Czech students can receive 10 extra points in the selection procedure for their Study Abroad programs and can also learn about other cultures and practice foreign languages.
ESN VSE Prague arranges a lot of trips in the Czech Republic, (e.g. to Pilsen, Kutná Hora, Karlštejn or a weekend trip in the South Moravian region) and places abroad (e.g. Krakow or Auschwitz). There are also lots of sport activities to join (climbing, soccer, ice-skating or ski trip) to offer also active rest.
Probably the best-known activities of ESN VSE Prague are traditional Tuesdays' Nation 2 Nation parties. These parties are not just about music and dancing but about different nations, because each N2N party is dedicated to one specific nation. Students from that nation prepare a presentation about their country, some of their typical food, welcome drinks and interesting games. All who come to the party can therefore meet new people and learn something about different cultures. There are also regularly organized special parties on Nation 2 Nation as Halloween Party, St. Nicholas Party or Easter Party and the best nation presentation is chosen at the Award Ceremony by the end of the semester.
Do you want to read some interesting numbers about the year 2022?
Our former president Dita Janáčková created within her diploma thesis an interesting and ilustrative report of our ESN VSE Prague section for the year 2022. You can find there some interesting numbers which will definitely surprise you. You can also read some of the testimonials and see the ratings which we recieved from the international students. They have rated our work such as organizing variety of events or just spending time together with them.
Visit THIS link and see the report!